JOIN THE ALL-AMERICAN US TRAVEL TEAM
Compete at national Model United Nations conferences around the US that your school may not attend
Our teams are comprised of high school students from around the United States that want to build their Model UN skills and compete at national Model UN conferences
US National Model UN Travel Team
2023-2024 Conferences: UConn, Columbia, Georgetown (NAIMUN), Northwestern
The goals of the US team mirror that of the international team: increase opportunities for students to compete at Model UN conferences, provide world-class training and coaching, and build long-term relationships with students. We practice a solutions-oriented Model UN strategy, backed up by strong advocacy, debate, and negotiation skills.
Over the past several years, our US travel team has set it set apart on the Model UN circuit, winning delegation awards at almost all conferences we have attended. Our students boast a 70% individual award rate, capitalizing on our trusted training pedagogy.
Students may enroll in the year-long program, including all travel conferences, or enroll in specific conferences.
2021-2022 Team Results
VAMUN- Best Small Delegation
BosMUN- Outstanding Small Delegation
NAIMUN- Outstanding Small Delegation
EagleMUNC- Best Small Delegation
CMUNC- Best Small Delegation
2022-2023 Team Results
WUMUNS- Best Small Delegation
ILMUNC- Outstanding Small Delegation
NAIMUN- Best Small Delegation
2023-2024 Conference Roster
University of Connecticut Model UN (UConnMUN)- Nov 3-5, 2023
Stoor, CT
Traditional and Crisis Committees
Students: 400
Columbia Model United Nations Conference and Exposition (CMUNCE)- Jan 11-14, 2024
New York City, NY
Crisis Committees
Students: 800
Georgetown University (NAIMUN)- Feb 15-18, 2024
Washington, D.C.
Traditional and Crisis Committees
Students: 3,500
Northwestern University Model UN (NUMUN)- April11-14, 2024
Chicago, IL
Traditional and Crisis Committees
Students: 1,200
ONE-ON-ONE COACHING
Work with the All-American Model UN Director to go over conference strategy, practice debating, and discuss policy research.
Students enrolled in the US Travel Team will have the chance to work directly with the All-American Model UN Director. In the run-up to conferences, every student will be required to conduct at least two one-on-one session with the Director to review research, discuss strategies, and practice speeches.
Frank and the All-American team are the epitome of professional, high-quality Model United Nations training. With their help, I've gone on to have great success at highly competitive conferences, and have strengthened my overall skills as a delegate and a public speaker. I capped off my senior years winning Best Delegate at HMUN and NAIMUN.
More than just Model UN, Frank wants all of his students to excel in every aspect of their life. I learned so much about Model UN, but also about international politics, economics, and international law. All-American Model UN has the foundation and starting point for my education and future career ambitions.
Sixteen Years of Training Material in the Making
Get your hands on all of our training material, developed over the past 15+ years. Practiced and proven material that produces results.
PROGRAM INCLUDES
The US National Model UN Travel Team by All-American Model UN includes all of the following for each conference.
24-Hour Supervision and Contact
Application and Qualifications
Students applying to the All-American Model UN team should have a consistent performance of excellence, not just in Model United Nations but also academically. We will assess each candidate on an individual basis and not against one another. Students should use their application to illustrate their strengths and progress throughout high school.
The US Travel Team will have a different set of criteria for acceptance compared to the International Travel Team, which had the highest standard. Students who attend a Summer Academy will be automatically accepted onto the US Travel Team. Typically, we will be looking for students who meet the following criteria:
Students must have at least one year of competitive Model United Nations experience and participate in at least two conferences.
The best candidates will have won at least one paper award (Honorable, Outstanding, Best, or the equivalent)
Exemplary understanding of parliamentary procedure including moderated debate, motions and points, resolution writing, and voting procedure.
Excellent written and verbal communication skills.
Ability to thoroughly research advanced matters of international affairs, both in the present and past.
Leadership experience either in Model United Nations or comparable co-curricular activities
Award Rate after All-American
OUR APPROACH TO STUDENT TRAINING
Our tested Model UN training has empowered students to become better Model UN delegates, students, and global citizens.
We believe Model UN is a powerful vehicle to teach students fundamental, transferable skills. Our philosophy revolves around four pillars:
Research and Preparation– All-American Model UN places a premium on research and pre-conference preparation. Students will be taught how to research complex international issues, analyze past actions taken, and develop new, novel approaches for solving some of the world's biggest challenges.
Pattern Recognition- Model UN conferences, whether one day or five days, follow the same pattern or cycle. The All Access training program will divulge the "secret" pattern behind Model UN conferences and teach students how to best develop a strategy to succeed. Rather than constantly run mock simulations, we break Model UN down into smaller, more digestible segments.
Emotional Intelligence- Model UN teaches grit, determination, leadership, and team building. To better understand these skills, All-American Model UN believes in teaching emotional intelligence to its students.
Advocacy- We believe that solutions without advocacy die in silence. Our training shows students how to be powerful advocates in formal debate and informal lobbying. 
EXERCISES FOR YOU
We'll introduce a new exercise to improve your MUN game. Exercises will be practiced during training sessions, and you'll also be given instructions on how you can practice by yourself or with your school team.
COMMUNITY SUPPORT
All students will be a part of our online Slack community, where students from around the country can talk about conferences, strategies, the news, and anything else they'd like to with a community of likeminded global citizens.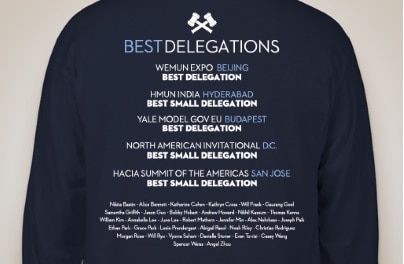 EXTRA PERKS
Through the year, students enrolled the US travel team can expect some extra perks along the way, like stickers, pins, free print issues of UNMOD The Magazine, and some other goodies.
PROGRAM COSTS AND SCHOLARSHIPS
Tuition
4 Conferences): $3,100
3 Conferences): $2,400
Individual Conferences: $950
Airfare Expense
Varies on location, not included
Payment Details & Options

Payment due upon enrollment
Payment plans available up to 9 months
Checks, money orders, and credit cards accepted
Multi-program packages available at a discount

Scholarships and Aid

Very limited finaicial assistance is offered for the US Travel Team

Additional Information

Please do not book your travel arrangements to host city until you are told to do so by the Director.
Over 55% of our students participate on multiple travel teams with All-American Model UN. We work hard to make our programs as affordable as possible, especially for students who participate in multiple programs!
Frequently Asked Questions
What training do students receive when they enroll in the US travel team?
All-American Model UN has moved to a cohort system. Students accepted into All-American Model UN will meet bi-weekly for regular training and coaching sessions, regardless of whether they are attending a conference. Conference teams will meet weekly leading up to a conference. Students will conduct research, write a position paper, and review Model UN procedure in addition to coaching meetings.
How do students get accepted onto the US travel team?
There are two ways by which students can be accepted to the US travel team. Students may either complete a Summer Academy, or they may apply directly for acceptance online at allamericanmun.com/apply. For students applying for direct acceptance, we will evaluate applications based on past performance at Model UN conference and academics.
Do students have to attend all conferences to participate on the US travel team?
No, students can attend as many conferences as they would like. Students who enroll in the full-year program will receive a discount on tuition.
Can you accommodate dietary restrictions during conference weekends?
Yes, we can accommodate all dietary restrictions for students.
How old do you have to be to apply as a student?
You must be at least 14 and no older than 18 to join the All-American Model UN travel team.
How do students travel to conference locations? Do they travel together?
Our students come from all parts of the US, and sometimes internationally, to compete on our travel team. When we have multiple students in a similar geography, we do our best to suggest travel plans to have students travel together. Most will arrive by plane independently. When students arrive at the destination airport, our staff meets them directly outside security to escort them to the conference hotel.
What details can you share about security and supervision?
We provide 24/7 onsite supervision during conferences. In addition, most conferences have robust security details at night. Students cannot leave the hotel alone; we enforce a strict curfew at night.
What types of financial assistance do you offer?
We operate the travel team to US conferences at a breakeven; therefore, we can only offer most financial assistance. We can split tuition payments into an installment, provided all tuition is paid before the last conference a student is attending.
How do you enroll for a conference?
After you've been accepted onto the team, students will receive access to an enrollment portal. The enrollment portal will give step-by-step instructions on how to submit tuition and finalize enrollment.