NORTH AMERICAN INVITATIONAL MODEL UN CONFERENCE: WASHINGTON, D.C.
There's only one way to know
North American Invitational Model UN
February 15-18, 2018
Hilton Convention Center, Washington D.C.
3,000+ Students
---
The North American Invitational Model United Nations (NAIMUN) conference, hosted by the Georgetown University International Relations Association, is one of the oldest UN simulations for high school students in the world. Since 1963, the conference has been a forum where young students come from around the world. Three thousand high schools students convene for four days to explore various problems of the world and seek solutions through discussion, negotiation, and debate.
NAIMUN is the one of the most challenging, competitive, and intense Model UN conferences in the world. The All-American Model UN team has competed there since 2016, winning Best Small Delegation each year in attendance. Selection for the NAIMUN delegation is very competitive, with strong preference given to All-American alumni.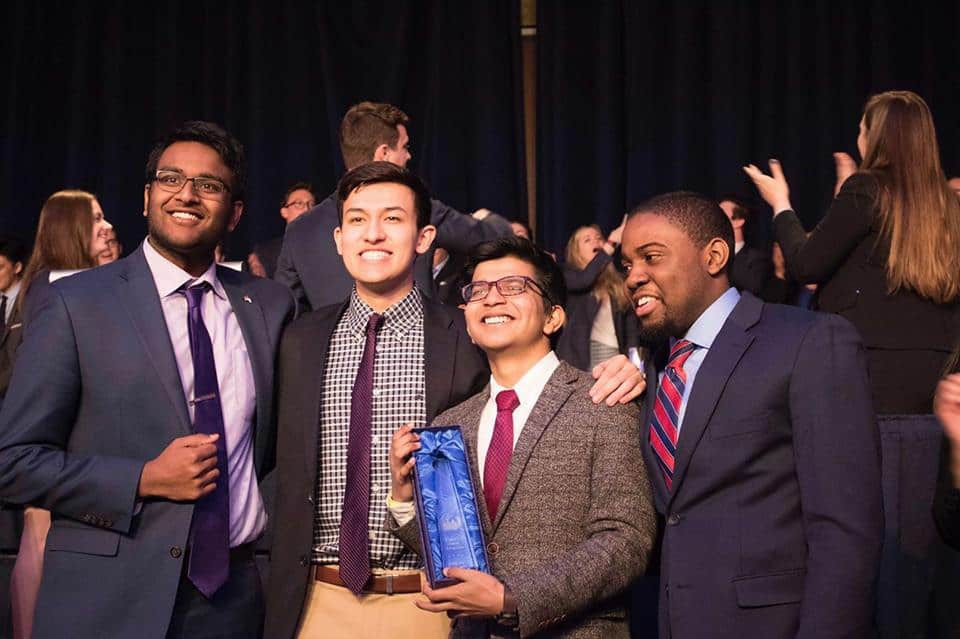 Thursday: Arrive in Washington, D.C.
Arrive in Washington, D.C. from your local airport
Get picked up at the airport or train station
Train with the All-American MUN Director
Day One of NAIMUN Conference
Go out to dinner in Dupont Circle
Friday: NAIMUN Day II
Compete with 3,000+ high school students from across the country and world
Saturday: NAIMUN Day III
Committee Sessions Contine
Delegate Dance
Delegation Dinner
Sunday: NAIMUN Day IV and Departure
Closing and Awards Ceremony
Depart from Washington, D.C.,
PROGRAM INCLUDES
The All-American Model UN Program to the NAIMUN in Washington, D.C. is a condensed, conference-only program offered to students who wish to compete at the most competitive US high school Model UN conference.
Pickup/Dropoff from Reagan National Airport or Union Station
24-Hour Supervision and Contact
5-Star Convention Center Hotel
Application and Qualifications
Students applying to the All-American Model UN team should have a consistent performance of excellence, not just in Model United Nations also academically. We will assess each candidate on an individual basis and not against one another. Students should use their application to illustrate their strengths and progress throughout high school.
Selection for the All-American Model UN delegation that attends NAIMUN is very selective. Alumni, those students who have completed past All-American programs have priority access to seats.
Students must have at least of two years of competitive Model United Nations experience and participated in at least two conferences.
The best candidates will have placed (been awarded a Best Delegate, Outstanding Delegate, or Honorable Mention) in a high percentage of conferences attended.
Experience hosting a conference or chairing a Model UN committee looked favorably upon, but not required.
Exemplary understanding of parliamentary procedure including: moderated debate, motions and points, resolution writing, and voting procedure.
Excellent written and verbal communication skills.
Ability to thoroughly research advanced matters of international affairs, both in the present and past.
Leadership experience either in Model United Nations or comparable co-curricular activities
Qualifying Model UN Conferences
The All-American Model United Nations program endorses outstanding Model United Nations conferences and organizations across the United States to promote Model UN excellence. The conferences listed have been chosen for their emphasis on student experience, academic quality, and level of competition. Students earning an Honorable Delegate, Outstanding Delegate, or Best Delegate award earn pre-qualification standing when applying to the All-American Model UN delegations. If you are a conference organizer, please 
contact us
 if you are interested in becoming an endorsed conference and allowing your students to earn pre-qualification for the All-American MUN teams.
Harvard Model UN (HMUN)
Ivy League Model UN Conference (ILMUNC)
Yale Model UN (YMUN)
Model UN at the University of Chicago (MUNUC)
North American Invitational Model UN (NAIMUN)
UC Berkeley Model UN (BMUN)
Stanford Model UN Conference (SMUNC)
USC Model UN (TrojanMUN)
Washington Area Model UN Conference (WAMUNC)
Chicago Invitational Model UN (CIMUN)
Boston Invitational Model UN (BosMUN)
Johns Hopkins Model UN Conference (JHUMUNC)
University of Michigan Model UN (MUNUM)
Rutgers Model UN (RUMUN)
Princeton Model UN Conference (PMUNC)
Cornell Model UN Conference (CMUNC)
Brown Simulation of the United Nations (BUSUN)
William and Mary High School Model UN (WMHSMUN)
Early Application Deadline: November 15, 2018
Award Rate after All-American
Students Accepted into Ivy League or Similar Schools
NAIMUN LIII 2016 Team
Best Small Delegation

Christian Rodriguez (Head Delegate): Best Delegate
Evan Torrisi: Best Delegate
Rose Jacobs: Honorable Mention
Casey Wang: Verbal Commendation
Nikhil Kassum, Robert Mathern, Jennifer Min, Katherine Cohen
NAIMUN LIV 2017 Team
Best Small Delegation

Gaurang Goel: Best Delegate
Bobby Hobart (Head Delegate): Best Delegate
Aditya Iyengar: Best Delegate
Michael Dianetti: Outstanding Delegate
Christian Rodriguez: Honorable Mention
Lily Zimeng Liu & Faiz Syed: Verbal Commendation
Rose Jacobs, Tengi Shiga, Alexandros Economou
PROGRAM COSTS AND SCHOLARSHIPS
<table class="tuition-table"><!-- [et_pb_line_break_holder] --><tbody><!-- [et_pb_line_break_holder] --><tr class="on"><!-- [et_pb_line_break_holder] --><td class="on theading">Tuition</td><!-- [et_pb_line_break_holder] --><td class="on">$800</td><!-- [et_pb_line_break_holder] --></tr><!-- [et_pb_line_break_holder] --><tr class="on"><!-- [et_pb_line_break_holder] --><td class="on theading">Alumni Tuition</td><!-- [et_pb_line_break_holder] --><td class="on">$400</td><!-- [et_pb_line_break_holder] --></tr><!-- [et_pb_line_break_holder] --><tr><!-- [et_pb_line_break_holder] --><td class="theading">Airfare Expense</td><!-- [et_pb_line_break_holder] --><td>Varies on location, not included</td><!-- [et_pb_line_break_holder] --></tr><!-- [et_pb_line_break_holder] --><tr><!-- [et_pb_line_break_holder] --><td class="theading on">Payment Details & Options</td><!-- [et_pb_line_break_holder] --><td class="on"><!-- [et_pb_line_break_holder] --><ul class="disc"><!-- [et_pb_line_break_holder] --> <li>Paperwork due by December 15, 2017, payment due by January 15, 2018</li><!-- [et_pb_line_break_holder] --> <li>3-month Payment plans available</li><!-- [et_pb_line_break_holder] --> <li>Checks, money orders, and credit cards accepted (online fees may apply)</li><!-- [et_pb_line_break_holder] --></ul><!-- [et_pb_line_break_holder] --></td><!-- [et_pb_line_break_holder] --></tr><!-- [et_pb_line_break_holder] --><tr><!-- [et_pb_line_break_holder] --><td class="theading">Scholarships and Aid</td><!-- [et_pb_line_break_holder] --><td><!-- [et_pb_line_break_holder] --><ul><!-- [et_pb_line_break_holder] --> <li>No scholarships, discounts, or other aid will be offer for the NAIMUN Travel Team</li><!-- [et_pb_line_break_holder] --></ul><!-- [et_pb_line_break_holder] --></td><!-- [et_pb_line_break_holder] --></tr><!-- [et_pb_line_break_holder] --><tr><!-- [et_pb_line_break_holder] --><td class="theading on">Additional Information</td><!-- [et_pb_line_break_holder] --><td class="on"><!-- [et_pb_line_break_holder] --><ul><!-- [et_pb_line_break_holder] --> <li>Students attending any spring travel program and NAIMUN will received a discounted tuition of $2,300 for both programs.</li><!-- [et_pb_line_break_holder] --> <li>Please do not book your travel arrangements to Washington D.C.<!-- [et_pb_line_break_holder] --> until you are told to do so by the Director.</li><!-- [et_pb_line_break_holder] --></ul><!-- [et_pb_line_break_holder] --></td><!-- [et_pb_line_break_holder] --></tr><!-- [et_pb_line_break_holder] --></tbody><!-- [et_pb_line_break_holder] --></table><!-- [et_pb_line_break_holder] -->
<a href="/apply">Apply Now!</a>