Welcome to the All-American Model UN Online Club
Become the best delegate and best student possible with our proven strategies and tactics
Created by Director Frank Pobutkiewicz with 16 years of experience.
Master Model United Nations
Start your training journey with All-American Model United Nations and master traditional Model UN, public speaking, debate, policy research and creation, bloc management, crisis committees, and more!
Try Now with Your First Month Free!
Unlock your full potential as a Model UN delegate & student
General Assembly Strategy
International Policy Creation
Unmoderated Caucus Strategy
HAVE QUESTIONS ABOUT THE ALL-AMERICAN MODEL UN CLUB?
What's included with the All-American MUN Club?
We've put together the most comprehensive digital Model United Nations experience available. Students enrolled in All-American MUN Club will have access to interactive training workshops every week and the video archive of past lessons if students can't make the live sessions. Students also get 1-on-1 coaching for one hour every month with the All-American Director. You'll get access to our online Slack community and access to all of our training materials. Students who enroll for at least six months receive a $500 travel grant for any international All-American Model UN program or any of the Academies. Expect free perks and gifts from All-American throughout the year when you enroll. Students will also be able to participate for free in our monthly virtual Model UN simulations and conferences. And we'll still be adding more in the future!
When can I join the MUN Club? Is there a deadline?
You can join the All-American Model UN Club whenever you'd like! As soon as you enroll, you'll have access to our weekly training seminars, one-on-one coaching with the All-American Director, and access to our training materials. There is no deadline or start date. We plan to operate the MUN Club throughout the next year with 52 weeks of unique lessons.
Is there an application?
The online MUN Club is open to any high school student (grade 8-12) who wishes to participate. There is no application or acceptance. Simply enroll in All-American Model UN Online Club and join our community! 
How much does it cost and can I cancel?
Enrollment in the online All-American Model UN Club costs $80/mo for over 10 hours of training, coaching, and simulations each month. Enrollment can be cancelled at any time. Please see our full MUN Club Terms for more information.
Where and when does the All-American MUN Club take place?
The Online All-American Model UN Club will take place entirely online. Weekly meetings will take place on Zoom meetings and monthly virtual simulations and conferences will take place on Airmeet. The links to these private online sessions will be emailed to you after enrollment.
WEEKLY CLUB MEETINGS
Every Monday, we hold online session for all students enrolled in MUN Club. Each week, we will discuss a current event, explore a UN body or IGO, and go through a training activity.
Weekly training seminars are the backbone of the online Model UN Club. During our weekly check-ins, the Director of All-American Model UN will lead an interactive hour-long session designed to cover not only Model United Nations but also current events and international affairs.
The training workshops will always begin with an open discussion of one international current event. We believe that those students who excel at Model United Nations have a well-versed understanding of global trade, international politics, sustainable development, the UN system, and cultural exposure.
After our current event discussion, we will explore a part of the United Nations or another intergovernmental organization, such as NATO or OPEC. Finally, we will spend the bulk of the weekly training seminars going through an instructive exercise designed to strengthen a particular aspect of being a Model United Nations delegate.
Can't make a session? We have you covered!
Weekly training seminars will always take place on Mondays at 5:30PM ET. If you cannot make a particular week, or you live in another time zone, every weekly seminar will be recorded so that you can watch whenever is most convenient.
Our online Slack community will help to facilitate weekly seminars, so even if you miss a session, you can still ask questions and actively participate in discussions with other students.
Frank and the All-American team are the epitome of professional, high-quality Model United Nations training. With their help, I've gone on to have great success at highly competitive conferences, and have strengthened my overall skills as a delegate and a public speaker. I capped off my senior years winning Best Delegate at HMUN and NAIMUN.
More than just Model UN, Frank wants all of his students to excel in every aspect of their life. I learned so much about Model UN, but also about international politics, economics, and international law. All-American Model UN has the foundation and starting point for my education and future career ambitions.
ONE-ON-ONE COACHING
Work with the All-American Model UN Director to go over conference strategy, practice debating, and discuss policy research.
Students enrolled Online Model UN Club will have the chance to work directly with the All-American Model UN Director every month. This one-on-one session is student-driven– it can be used to discuss upcoming conferences, training school teams, practice debating, or discuss political events.
Once enrolled, students will be given instructions to book time on the Director's schedule all online. One-on-one coaching can take place over the phone, Skype, or another platform.
Sixteen Years of Training Material in the Making
Get your hands on all of our training material, developed over the past 15+ years. Practiced and proven material that produces results.
PROVEN RESULTS
Not only has our training produced seven years of winning Best Delegation awards and 95% individual award rate on All-American travel teams, but we've also helped high schools around the US win.
First, our training was exclusive to only students accepted and enrolled in All-American Model United Nations programs. Since 2011, our teams have won delegation awards at every conference that we've attended, and our students place a staggering 95% of the time. For three consecutive years, from 2016-2018, the All-American Model UN team won Best Small Delegation at Georgetown's North American Invitational Model UN (NAIMUN) conference in Washington, D.C.
We've been training high school teams around the country for years. With our research and training techniques, we've helped school teams win delegation awards at some of the top conferences in the country, including YMUN, BosMUN, and WAMUNC.
Now, we're bringing our training online to individual students across the country!
Our philosophy revolves around four pillars:
Research and Preparation– All-American Model UN places a premium on research and pre-conference preparation. Students will be taught how to research complex international issues, analyze past actions taken, and develop new, novel approaches for solving some of the world's biggest challenges.
Pattern Recognition- Model UN conferences, whether one day or five days, follow the same pattern or cycle. The training program will divulge the "secret" pattern behind Model UN conferences and teach students how to best develop a strategy to succeed.
Emotional Intelligence- Model UN teaches grit, determination, leadership, and team building. To better understand these skills, All-American Model UN believes in teaching emotional intelligence to its students.
Confidence- We believe that practice builds confidence. Rather than constantly run mock simulations, we break Model UN down into smaller, more digestible segments. We approach Model UN education like baseball or basketball practice–you don't constantly scrimmage during every practice, but instead, you work on individual drills to apply to game situations.
WEEKLY OVERVIEW
Every week offers different learning lessons for students regardless of experience. At the start of each month, students and parents will receive outlines of seminar lessons for that month.
We've structured the Online Club so that students can join and start the program at any point during the year. We'll review materials in such a way that students will get the whole benefit of our training, regardless of when they join.
For Model UN training, we'll alternate every month between traditional committee structures and crisis committee structure.
COVID Pandemic Responses
OPEC, Russia, and the Price of Oil
US 2020 Presidential Elections
Leadership in North Korea
The General Assembly
UN Human Rights Council
Economic and Social Council
Secretariat
Trusteeship Council
Security Council
Peacekeeping Operations
International Court of Justice
The Rome Statute and the ICC
World Food Program
UN OPS
UNESCO
MUN Topics:
Structuring GA Resolutions
Developing Solution Sets
Speakers List Strategies
Points and Motions
Crisis Committees 101 (The Crisis Cycle)
Crisis Q&A
Crisis Directives
Crisis Arcs
EXERCISES FOR YOU
Every week, we'll introduce a new exercise to improve your MUN game. Exercises will be practiced during weekly seminars, but you'll also be given instructions on how you can practice by yourself or with your school team.
COMMUNITY SUPPORT
Students enrolled in Online MUN Club will be a part of our online Slack community, where students from around the country can talk about conferences, strategies, the news, and anything else they'd like to with a community of like-minded global citizens.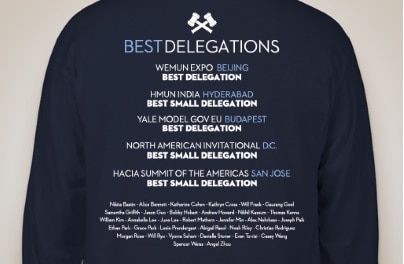 EXTRA PERKS
Throughout the year, students can expect some extra perks along the way, like stickers, pins, free print issues of UNMOD The Magazine, and some other goodies.
INDIVIDUAL ATTENTION, SMALL CLASS SIZE
Only sixteen students will be enrolled in the All-American Model UN Club at any time to ensure that the Director can pay individual attention to every student.
The MUN Club training is about realizing your full potential as a delegate and student. The only way to ensure that every student receives individualized attention is to limit class sizes. No more than sixteen students will be enrolled in the Model UN Club. Seats will be filled on a first-come, first-served basis.
All students enrolled in the Model UN Club will have direct access to the Director through various messaging apps, including our online Slack community. Students may ask the Director questions about Model UN at any time through these channels, including during Model UN conference weekends. By enrolling, you'll have years of Model UN experience at your fingertips!
Enroll Today and Start Your Journey
COMPLETE YOUR ENROLLMENT AND RECEIVE ALL OF THE FOLLOWING:
WEEKLY TRAINING SEMINARS COVERING INTERNATIONAL NEWS & MODEL UN STRATEGY
ONE HOUR OF ONE-ON-ONE COACHING PER MONTH
ACCESS TO THE ALL-AMERICAN MODEL UN ONLINE SLACK COMMUNITY
DIRECT ACCESS TO THE ALL-AMERICAN MODEL UN DIRECTOR DURING CONFERENCE WEEKENDS
ACCESS TO OUR QUIZZES AND ASSESSMENT TOOLS
MONTHLY PROGRESS REPORTS FOR STUDENTS AND PARENTS
ACCESS TO THE VIDEO ARCHIVE OF PAST WEEKLY SEMINARS
ACCESS TO TRAINING MATERIALS AND MODEL UN EXERCISES
SPECIAL OPPORTUNITIES TO COMPETE AT CONFERENCES IN THE US
EXTRA PERKS AND SWAG THROUGHOUT THE YEAR
A $500 TRAVEL GRANT FOR ANY INTERNATIONAL PROGRAM OR ACADEMY*
ANNUAL CERTIFICATE OF COMPLETION
Enroll Today and Get Your First Month Free!
[simpay id="124177″]
Powered by Stripe.
*Grant becomes automatically available to students after completing their six months of enrollment. Terms and Conditions apply.