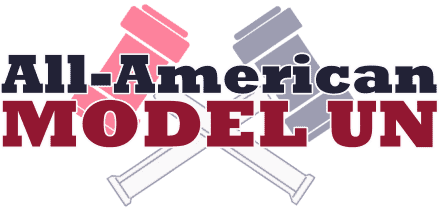 DELEGATE TRACK
All-American Model United Nations Academy
Get the best Model UN training on the planet.
Learns the tactics and strategies that the most successful Model UN team in the world uses at conferences. At the All-American Model UN Academy, you'll master two procedure styles, four committee types, pre-conference research, formal and impromptu debate techniques, and more.
Join All-American Model UN Director Frank Pobutkiewicz for a week-long intensive Model UN experience in Boston. Improve your Model UN game, guaranteed.
ACADEMY DETAILS
LOCATION
Marriott Kendall Square
50 Broadway
Cambridge, MA 02142
DATES Aug 8-Aug 14, 2021
TUITION  $2,4000
01  Discover the All-American Model UN 9 step pattern to winning awards at Model UN conferences
02  Work with accomplished Model UN mentors and coaches who have won awards across the country
03  Proof of COVID vaccination needed to enroll AND daily COVID testing during the Academy
04  Join a high performing community where 34% of students attend Ivy League+ schools and 95% consistently win awards
Understand how Model UN procedure is structured so that you can have the most impact on the committee experience
Learn unmoderated caucus tactics to show bloc leadership and stand out from the crowd
Learn the most effective way to organize draft resolutions and how to maximize the amendment process.
Practice your public speaking to improve confidence by removing filler sounds and constructing arguments
Complete an academic abstract on a topic of your choice and become a committee expert on a particular topic
Get training materials and exercises to improve the performance of your Model UN school team
Master different Model UN committee types including General Assembly, Specialized, Courts & Boards, and Crisis
Understand how to manage relationships with delegates in your bloc and with members of the dias
"My experience with All-American Model UN defined my high school years. The Academy was my entryway into a community that helped shaped who I am today.  By far the best experience available for people who want to get better at Model UN."
ACTIONABLE INSTRUCTION
Step-by-step techniques to put knowledge into practice. Skills we'll be covering including moderated debate, procedure, unmoderated caucuses, lobbying, resolution writing, crisis arcs, crisis notes, directive writing, and more.
DESIGNED FOR LEADERS
Showcase your leadership skills throughout the Academy and demonstrate your leadership once you return to your high school.
JOIN OUR COMMUNITY
Students who successfully complete the All-American Model UN Academy will gain acceptance onto our US and international travel teams, giving them the opportunity to compete around the world.
ACADEMIC RESEARCH
Complete an academic paper abstract by the end of the Academy. Use your research as a jumping-off point for future projects.
INTENSIVE AND APPLICABLE
You don't need to spend years attending multiple courses. Gain a mastery of skills applicable to a wide range of committees and situations. Then put them into practice.
PERSONAL FEEDBACK
Our Academies have a limited number of seats to ensure that every student received individualized feedback from our mentors each day. Put daily lessons into practice during our daily simulation and then receive 1-on-1 feedback on your performance.
ALL-AMERICAN MODEL UNITED NATIONS ACADEMY
DATES: August 8-14, 2021
LOCATION: Marriott Kendall, Cambridge, MA
TUITION: $2400
INCLUDES:
Lodging (2 people/room)
Breakfast & Dinner
In-city Transportation
Airport/Train Shuttling
Model UN Coaching & Training Book
Social Activities & City Tours
Medical Insurance
Daily COVID Testing