Congratulations!
Welcome to the All-American Community!
Welcome from the Director
Model United Nations has been a cornerstone of my life ever since I was first introduced to the activity by my high school teacher. Throughout my academic career, starting in high school and spanning to the end of my college days, I spent countless hours researching, practicing, organizing, budgeting, and competing at Model UN conferences.
In many ways, my experience starting All-American Model UN gives me a unique perspective on the true value that Model UN gives to students. I have had the privilege and honor to get to know some of the most talented students in the country because of our shared connection that Model UN builds.
My goals with the All-American Programs are twofold. First, I believe in the power of long-term relationships. Each year, I am amazed by the capabilities of the students with whom I work. As proof of this, you need to look no further than our acceptance rate into Ivy League universities, Stanford University, Georgetown University, and the University of Chicago, which stands at a towering 36%— comparable to any elite school in the United States.
This leads me to the second goal: to continue to legitimize and provide professional accountability for our shared intellectual pursuit. In a way, being accepted as an All-American is the first step to helping to explain to local communities and colleges alike your dedication to Model UN. More importantly, All-American Model UN can be your stepping stone to your future.
In the past, Over 55% of students participated in multiple programs with us, a testament to the experience of our students and the trust we develop with all our families.
I hope that you will continue to get to know more about us! One of the best ways is to speak with our past students and parents. Please get in touch with me and I'd be happy to set up a few introductions!
Happy MUNing!
Frank Pobutkiewicz
[email protected]
857-400-9525 (Call or Text)
Quick Notes:
Enrollment is currently open for the All-American Model UN Academies for Summer 2022.
After you have been accepted, you may enroll in any program until the first day of college.
If you are interested in joining the new article writing program for the All-American website, please email [email protected] For every article you write, you will earn $20 towards a tuition discount. Please email [email protected] for more information.
A link to the Financial Assistance program can be found at the bottom of this page.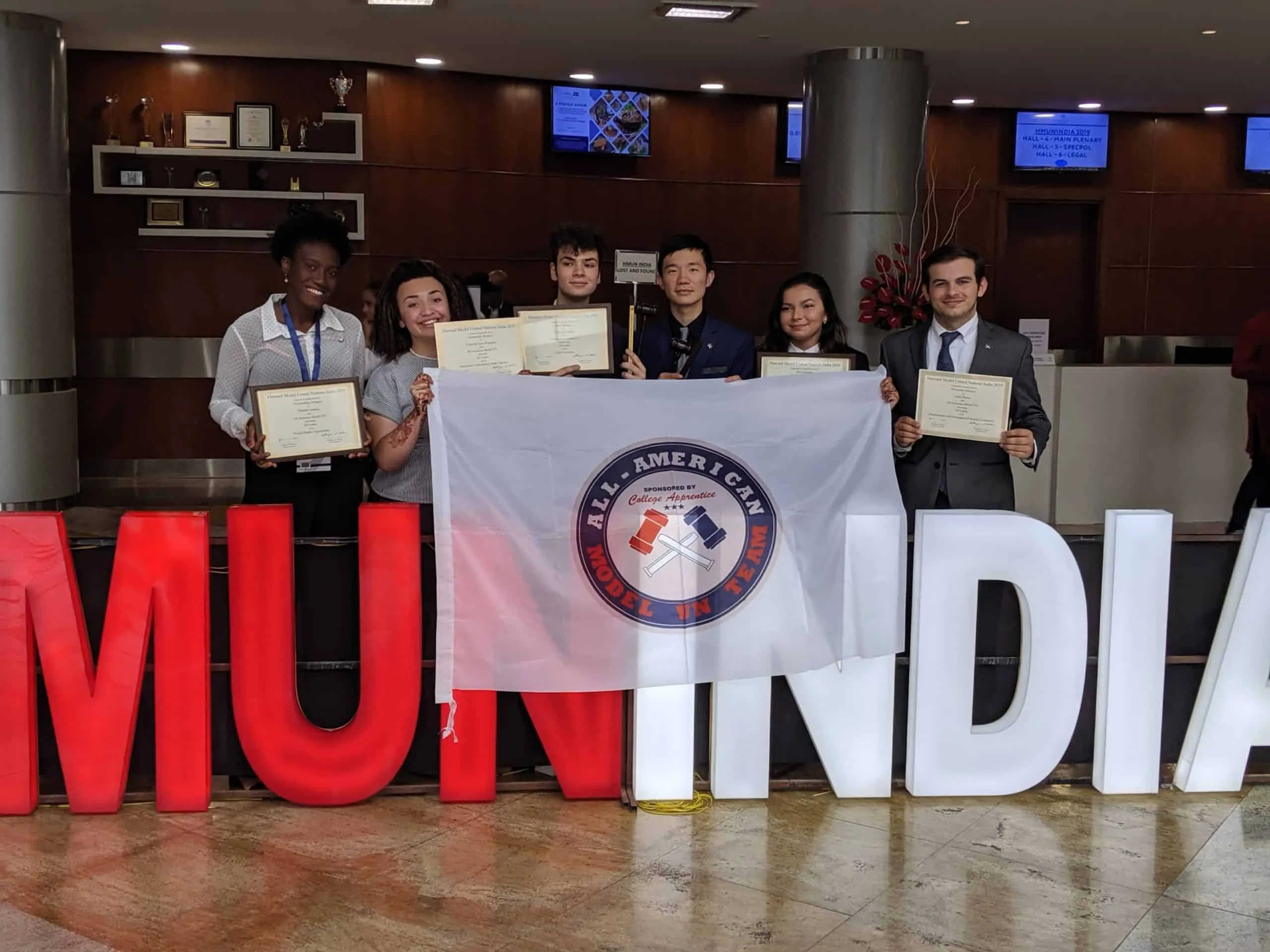 STEP ONE: Apply for Financial Assistance
Before you complete your enrollment and submit your payment, remember to apply for Financial Assistance if you need it. The goal of our financial assistance program is to ensure all accepted students can participate without worrying about cost.
STEP TWO: Complete Enrollment and Submit Payment
To reserve your seat in any All-American Model UN program, you must submit your payment electronically below. If you received financial assistance, please enter the scholarship code in the form below.
STEP THREE: Look For a Welcome Email!
After you've completed your enrollment, look for a couple of things. First, you'll receive an email confirming your payment. Second, you'll receive an email from the Director with further instructions. And third, you'll be sent a welcome package in the mail with a handbook and All-American Model UN swag.
All-American Model UN by the Numbers
ALUMNI GOING TO IVY LEAGUE+
ALUMNI ATTENDING TOP 30 COLLEGES
US Travel Team
VAMUN (Charlottesville) – JHUMUNC (Baltimore) – NAIMUN (Washington DC) – EAGLEMUNC (Boston) – CMUNC (Cornell) | $4,000
Included in tuition (see Booking Terms for full details):
Airport/Train/Bus transfers
All in-city transportation
5-Star Hotel Lodging (4 students/room)
Delegation Dinner
Individual & Team Model UN Coaching
Conference Fees
24 Hour Supervision and Contact
US Travel Team (Single Conferences)
VAMUN (Charlottesville) – JHUMUNC (Baltimore) – NAIMUN (Washington DC) – EAGLEMUNC (Boston) – CMUNC (Cornell) | $900/conference
MUN Impact Bilbao
More Information: MUN Impact Bilbao Program Page
Included in tuition (see Booking Terms for full details):
Airport/Train/Bus transfers
All in-city transportation
4-Star Hotel Lodging (2 students/room)
All breakfast and dinners
Individual & Team Model UN Coaching
Conference Fees
24 Hour Supervision and Contact